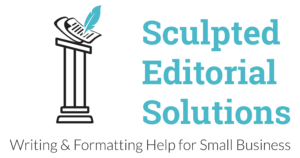 Get your words-based house in order so you can run your business
Every business relies on the written word. Everything you write for your business is a reflection of your professional image. From websites and proposals to employee handbooks and procedures, you need written materials to do your job.
Do you have time to write? Are you a good writer? Are your files outdated and disorganized? Do you avoid updating social media because you know bad content will harm your image? 
Are you confident in the written content you have? Does your website have errors? Are your sales proposals free of typos? Is your email address spelled right on your business cards? Are your emails professional?
If you could outsource your writing needs to a professional, how much more time could you spend running and growing your business? If you had an editor on demand, how much more confident would you be when you communicate with sales leads?
Sculpted Editorial Solutions exists to help you write, edit, and organize all of your content so you can work the business that is your passion.
Our clients trust us because we listen to their needs, capture their voice, are responsive to feedback, and deliver content on time. Send us your notes, your rough drafts, your angry emails, or your outdated work, and then get back to doing what you do best while we take care of the words. Just need an extra set of eyes? We do that, too! Be confident that your social media or blog posts are clear and correct when you give us access to your management software. Contact us today to see how we can make your life easier. Your initial consultation is always free.