New Service Announcement! Launch your new business with a New Business Launch Kit from S+L Biz Labs! Learn More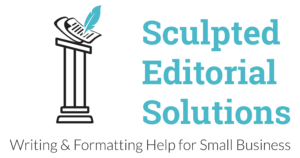 Get your words house in order so you can run your business
Content, copy, documentation…whatever you call it, you need to write to run your business. Everything you write for your business is a reflection of your professional image. From websites and proposals to employee handbooks and procedures, you need written materials to do your job.
As you grow, you realize that you've been playing catch-up when it comes to the things you need to write. Your website needs new copy. You have a list of blog topics but no time to write them. You notice that you've been inconsistent in one of your processes and need a checklist or procedures to stay on track.
Maybe you need to hire an employee, but you don't know who to look for because you don't have a job description. Maybe your current employees aren't performing as well as they could because they don't have policies and procedures to help them do their jobs.
Have you lost money or given away more work than you're being paid for because you didn't detail your services and terms in a client service agreement?
What would happen to your stress level if all of these things could magically write themselves? When you outsource your business writing needs to a professional, magic is exactly what happens. You have the resources you need, your confidence increases dramatically, and your writing to-do list is suddenly done. 
Sculpted Editorial Solutions exists to help you write, edit, and organize all of your content so you can work the business that is your passion.
Our clients trust us because we listen to their needs, capture their voice, are responsive to feedback, and deliver content on time. Send us your notes, your rough drafts, your angry emails, or your outdated work, and then get back to doing what you do best while we take care of the words. Just need an extra set of eyes? We do that, too! Be confident that you're putting your best words forward when we help you with proofreading and editing. Contact us today to see how we can make your life easier. Your initial consultation is always free.