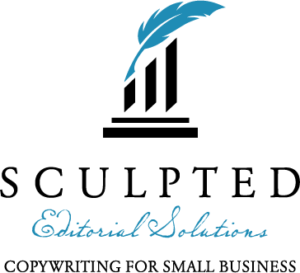 Simplify your marketing with professionally sculpted copy
"The fact is, pretty websites don't sell things. Words sell things. And if we haven't clarified our message, our customers won't listen." ~Donald Miller
Are your words working for your business?
While you're busy running your business, it's easy to fall behind on the things you need to write:
Your website needs new copy
You need a blog to get better SEO
Your business descriptions on Google, social media, and directories are outdated
You need job descriptions to find better candidates
Your employees are struggling to perform without policies and procedures
You're giving away work because you don't have a detailed client services agreement
What would happen to your stress level if all of these things could magically write themselves? When you outsource your business writing needs to a professional copywriter, magic is exactly what happens. You have the resources you need, your confidence increases dramatically, and your writing to-do list is suddenly done. 
Sculpted Editorial Solutions exists to help you put your best words forward. Our clients trust us because we listen to their needs, capture their voice, are responsive to feedback, and deliver content on time. Send us your notes, your rough drafts, your angry emails, or your outdated work, and then get back to doing what you do best while we take care of the words. Contact us today to see how we can make your life easier. Your initial consultation is always free.