Business Email: Reduce Clutter, Reduce Stress, Increase Profit
You need this eBook if you want to:
Learn to organize your time spent dealing with email

Treat email as a relationship builder

Improve your professional image

Spend less time managing clutter and more time doing what you love

Improve communication and decrease confusion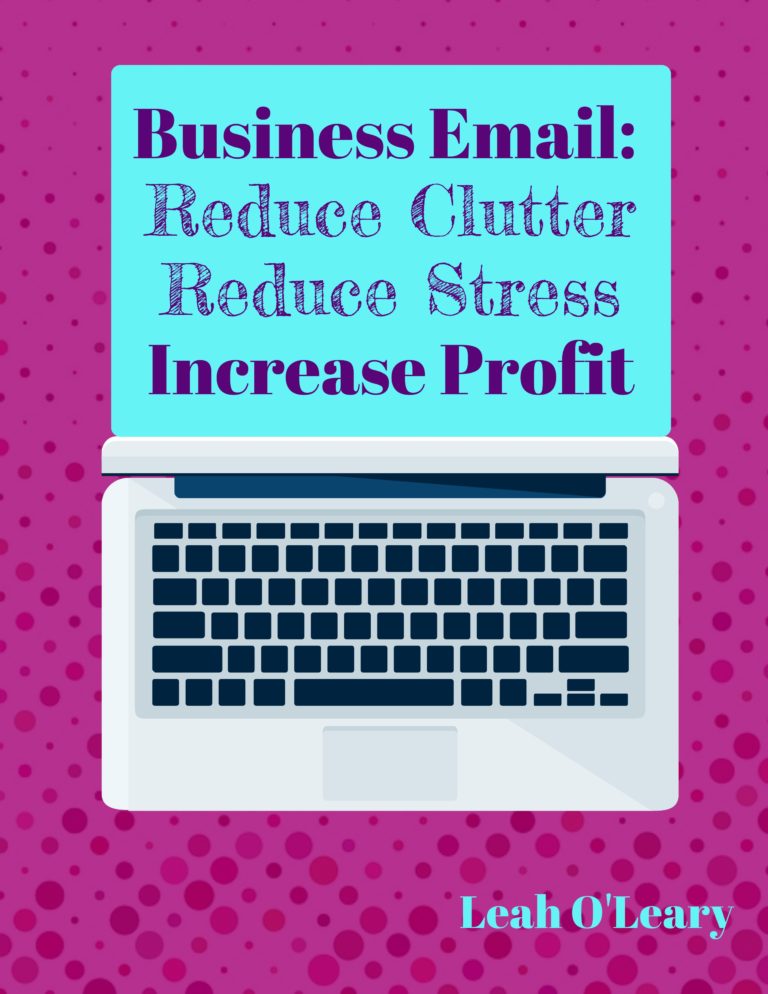 "This book is a concise, witty and informative read. It was a refreshing reminder that with the proper organization I don't need to be tied to my phone or computer answering emails all day, and by not being beholden to my email I can be more productive in other areas of my business."
Can I ask you a question? How much of your work day is spent on email? Too much, or not enough? Chances are, whichever answer is correct, the result is causing you stress.
Email is a vital form of communication, but how we approach it has a profound impact on whether we control it or it controls us. If you are stressed out because you feel compelled to check your email every time you see the notification (this is the trap I fall into regularly), or if you are stressed out because you know you've been ignoring your emails for a week and they are piling up, email is controlling you.
Let me ask you to think about email a little differently for a moment. How would you feel about email if you could see it as a tool for building relationships with people? How would you feel about email if it was another way to help you organize your time? How would you feel about email if your interactions on it were informative and productive? How would you feel about email if you are the one who controls it as a tool to grow and cultivate your business?
The pain that email causes in our lives is due to our failure to harness its value. We deal with email to check a box on a to-do list. We avoid email in resistance to the administrative burden of running a business. We get confusing emails and respond out of annoyance. We get excuse emails and respond in anger. We get inquiry emails and respond with prices but not personal service.
It's time to stop the madness! Email can make your life easier, and if you take control of it, it can increase your profits!
This eBook ISN'T full of magic, doesn't take weeks to read with assignments to complete, and doesn't beg you to spend tons of money on classes and apps. 
This eBook IS less than 20 pages packed with valuable tools that will help you organize your approach to business email. For less than $5.00, you can be better prepared to tackle your emails as a scheduled part of your day, write emails that improve communication and understanding for everyone involved, and reduce the stress and clutter of email so that you can focus on the passion that is your business.
Small business owners

Volunteer board members and officers

School association members

Sales professionals
Marketing professionals

Customer service representatives

Non-profit employees

Fundraising representatives
Anyone feeling overwhelmed by email
About the author
Hi! I'm Leah, the woman who is asking you to trust her when it comes to whipping your email habits into shape. Even though I consider myself a lifelong writer, I didn't forge a writing career right out of college. After a few too many years dabbling in serving and restaurant management, I decided I wanted the stability and consistency of an office job.
I started as an administrative assistant for a small company where I realized a passion for organizing and creating efficiency in the workplace. As I grew my career, moving on to bigger and better positions, I fell in love with business writing. I know it sounds crazy, but I find the ability to convey one's business knowledge or goals in crisp and informative language to be an art form. I know I've worked hard to learn my industry; haven't you? When I need to share what I know in writing, I want those words to reflect that hard work.
I wrote this book because I feel that we've lost respect for the written word. Email is communication, and business emails should inform those with whom we correspond. They should foster respect between colleagues and further the pursuit of knowledge or personal service. By raising the level of discourse in professional email, I believe relationships will improve, charlatans will be dismissed faster, and we will see a new era of mutual respect in business.